General Purpose Steel Wire Rope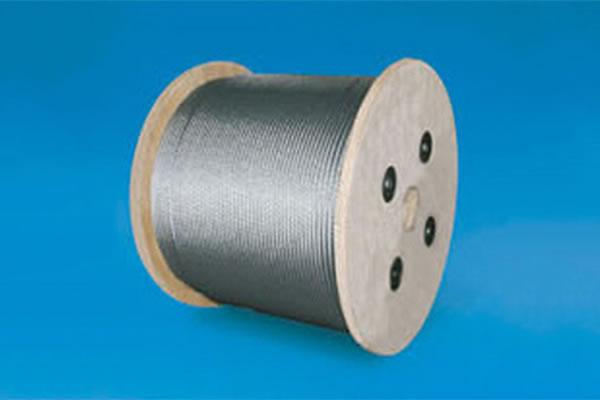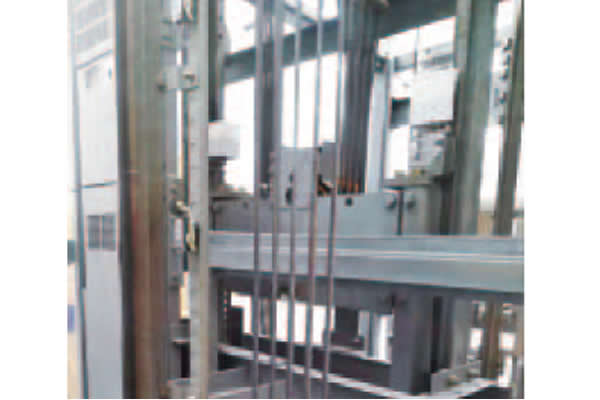 Application
Fasten general purpose steel wire rope is highly versatile and can be used for nearly any application, particularly cranes, hoists, and general engineering purposes.
Characteristic
1. Flexible and easy to use, wide range of applications
2. Manufactured as per DIN, as well as customizable options.
Product Structure
Specifications
Nominal Dia. (mm)
Approximate
Weight
Nominal Tensile Strength. Mpa
1570
1670
1770
1870
1960
Min. Breaking Load. KN
D
FC
(Fiber Core)
IWR/IWS
(Steel Core)
FC
(Fiber Core)
IWR/IWS
(Steel Core)
FC
(Fiber Core)
IWR/IWS
(Steel Core)
FC
(Fiber Core)
IWR/IWS
(Steel Core)
FC
(Fiber Core)
IWR/IWS
(Steel Core)
FC
(Fiber Core)
IWR/IWS
(Steel Core)
mm
kg/100m
KN
3.00
3.03
3.43
4.34
4.69
4.61
4.99
4.89
5.29
5.17
5.59
5.41
5.85
4.00
5.39
6.10
7.71
8.34
8.20
8.87
8.69
9.40
9.19
9.93
9.62
10.40
5.00
8.43
9.53
12.00
13.00
12.80
13.90
13.60
14.70
14.40
15.50
15.00
16.20
6.00
12.10
13.70
17.40
18.80
18.50
20.00
19.60
21.20
20.70
22.40
21.60
23.40
7.00
16.50
18.70
23.60
25.50
25.10
27.20
26.60
28.80
28.10
30.40
29.40
31.80
8.00
21.60
24.40
30.80
33.40
32.80
35.50
34.80
37.60
36.70
39.70
38.50
41.60
9.00
27.30
30.90
39.00
42.20
41.50
44.90
44.00
47.60
46.50
50.30
48.70
52.70
10.00
33.70
38.10
48.20
52.10
51.30
55.40
54.30
58.80
57.40
62.10
600.00
65.00
11.00
40.80
46.10
58.30
63.10
62.00
67.10
65.80
71.10
69.50
75.10
72.80
78.70
12.00
48.50
54.90
69.40
75.10
73.80
79.80
78.20
84.60
82.70
89.40
86.60
93.70
13.00
57.00
64.40
81.50
88.10
86.60
93.70
91.80
99.30
97.00
105.00
101.00
110.00
14.00
66.10
74.70
94.50
102.00
100.00
109.00
107.00
115.00
113.00
122.00
118.00
127.00
16.00
86.30
97.50
123.00
133.00
131.00
142.00
139.00
150.00
147.00
159.00
154.00
166.00
18.00
109.00
123.00
156.00
169.00
166.00
180.00
176.00
190.00
186.00
201.00
195.00
210.00
20.00
135.00
152.00
193.00
208.00
205.00
222.00
217.00
235.00
230.00
248.00
240.00
260.00
22.00
163.00
184.00
233.00
252.00
248.00
268.00
263.00
284.00
2787.00
300.00
291.00
315.00
24.00
194.00
219.00
278.00
300.00
295.00
319.00
313.00
338.00
331.00
358.00
346.00
374.00
26.00
228.00
258.00
326.00
352.00
347.00
375.00
367.00
397.00
338.00
420.00
406.00
440.00
28.00
264.00
299.00
378.00
409.00
402.00
435.00
426.00
461.00
450.00
487.00
471.00
510.00
30.00
303.00
343.00
434.00
469.00
461.00
499.00
489.00
529.00
517.00
559.00
541.00
585.00
32.00
345.00
390.00
494.00
534.00
525.00
568.00
556.00
602.00
588.00
636.00
616.00
666.00
34.00
390.00
440.00
557.00
603.00
593.00
641.00
628.00
679.00
664.00
718.00
695.00
752.00
36.00
437.00
494.00
625.00
676.00
664.00
719.00
704.00
762.00
744.00
805.00
780.00
843.00
38.00
487.00
550.00
696.00
753.00
740.00
801.00
785.00
849.00
829.00
896.00
869.00
940.00
40.00
539.00
610.00
771.00
834.00
820.00
887.00
869.00
940.00
919.00
993.00
963.00
1040.00
Product Structure
6×37-FC
6×37-IWR
7×37-IWS
Specifications
Nominal Dia. (mm)
Approximate
Weight
Nominal Tensile Strength. Mpa
1570
1670
1770
1870
1960
Min. Breaking Load. KN
D
FC
(Fiber Core)
IWR/IWS
(Steel Core)
FC
(Fiber Core)
IWR/IWS
(Steel Core)
FC
(Fiber Core)
IWR/IWS
(Steel Core)
FC
(Fiber Core)
IWR/IWS
(Steel Core)
FC
(Fiber Core)
IWR/IWS
(Steel Core)
FC
(Fiber Core)
IWR/IWS
(Steel Core)
mm
kg/100m
KN
6.00
12.10
13.70
16.70
18.00
17.70
19.20
18.80
20.30
19.90
21.50
20.80
22.50
7.00
16.50
18.70
22.70
24.50
24.10
26.10
25.60
27.70
27.00
29.20
28.30
30.60
8.00
21.60
24.40
29.60
32.10
31.50
34.10
33.40
36.10
35.30
38.20
37.00
40.00
9.00
27.30
30.90
37.50
40.60
39.90
43.20
42.30
45.70
44.70
48.30
46.80
50.60
10.00
33.70
38.10
46.30
50.10
49.30
53.30.
52.20
56.50
55.20
59.70
57.80
62.50
11.00
40.80
46.10
56.00
60.60.
59.60
64.50
63.20
68.30
66.70
72.20
69.90
75.60
12.00
48.50
54.90
66.70
72.10
70.90
76.70
75.20
81.30
79.40
85.90
83.20
90.00
13.00
57.00
64.40
78.30
84.60
83.30
90.00
88.20
95.40
93.20
101.00
97.70
105.00
14.00
66.10
74.70
90.80
98.20
96.60
104.00
102.00
111.00
108.00
117.00
113.00
122.00
16.00
86.30
97.50
119.00
128.00
126.00
136.00
134.00
145.00
141.00
153.00
148.00
160.00
18.00
109.00
123.00
150.00
162.00
160.00
173.00
169.00
183.00
179.00
193.00
187.00
202.00
20.00
135.00
152.00
185.00
200.00
197.00
213.00
209.00
226.00
221.00
239.00
231.00
250.00
22.00
163.00
184.00
224.00
242.00
238.00
258.00
253.00
273.00
267.00
289.00
279.00
302.00
24.00
194.00
219.00
267.00
288.00
284.00
307.00
301.00
325.00
318.00
344.00
333.00
360.00
26.00
228.00
258.00
313.00
339.00
333.00
360.00
353.00
382.00
373.00
403.00
390.00
422.00
28.00
264.00
299.00
363.00
393.00
386.00
418.00
409.00
443.00
432.00
468.00
453.00
490.00
30.00
303.00
343.00
417.00
451.00
443.00
479.00
470.00
508.00
496.00
537.00
520.00
562.00
32.00
345.00
390.00
474.00
513.00
504.00
546.00
535.00
578.00
565.00
644.00
592.00
640.00
34.00
390.00
440.00
535.00
579.00
570.00
616.00
604.00
653.00
638.00
690.00
668.00
722.00
36.00
437.00
494.00
600.00
649.00
638.00
690.00
677.00
732.00
715.00
773.00
749.00
810.00
38.00
487.00
550.00
669.00
723.00
711.00
769.00
754.00
815.00
797.00
861.00
834.00
902.00
40.00
539.00
610.00
741.00
801.00
788.00
852.00
835.00
903.00
883.00
954.00
925.00
1000.00
42.00
594.00
672.00
817.00
883.00
869.00
940.00
921.00
996.00
973.00
1050.00
1020.00
1100.00
44.00
652.00
738.00
897.00
970.00
954.00
1030.00
1010.00
1090.00
1070.00
1150.00
1120.00
1210.00
46.00
713.00
806.00
980.00
1060.00
1040.00
1130.00
1100.00
1190.00
1170.00
1260.00
1220.00
1320.00
48.00
776.00
878.00
1070.00
1150.00
1140.00
1230.00
1200.00
1300.00
1270.00
1370.00
1330.00
1440.00
50.00
843.00
953.00
1160.00
1250.00
1230.00
1330.00
1310.00
1410.00
1380.00
1490.00
1450.00
1560.00
52.00
911.00
1030.00
1250.00
1350.00
1330.00
1440.00
1410.00
1530.00
1490.00
1610.00
1560.00
1690.00
54.00
983.00
1110.00
1350.00
1460.00
1440.00
1550.00
1520.00
1650.00
1610.00
1740.00
1690.00
1820.00
56.00
1060.00
1190.00
1450.00
1570.00
1540.00
1670.00
1640.00
1770.00
1730.00
1870.00
1810.00
1960.00
58.00
1130.00
1280.00
1560.00
1680.00
1660.00
1790.00
1760.00
1900.00
1860.00
2010.00
1950.00
2100.00
60.00
1210.00
1370.00
1670.00
1800.00
1770.00
1920.00
1880.00
2030.00
1990.00
2150.00
2080.00
2250.00
62.00
1300.00
1460.00
1780.00
1930.00
1890.00
2050.00
2010.00
2170.00
2120.00
2290.00
2220.00
2400.00
64.00
1380.00
1560.00
1900.00
2050.00
2020.00
2180.00
2140.00
2310.00
2260.00
2440.00
2370.00
2560.00
66.00
1470.00
1660.00
2020.00
2180.00
2150.00
2320.00
2270.00
2460.00
2400.00
2600.00
2520.00
2720.00
68.00
1560.00
1760.00
2140.00
2320.00
2280.00
2460.00
2410.00
2610.00
2550.00
2760.00
2670.00
2890.00
70.00
1650.00
1870.00
2270.00
2450.00
2410.00
2610.00
2560.00
2770.00
2700.00
2920.00
2830.00
3060.00
Product Structure
6×12-7FC
Specifications
Nominal Diam (mm)
Approximate Weight (kg/100m)
Nominal Tensile Strength (Mpa)
1470
1570
1670
1770
Min.Breaking Load(KN)
8
16.1
19.7
21.0
22.3
23.7
9
20.3
24.9
26.6
28.3
30.0
9.3
21.7
26.6
28.4
30.2
32.0
10
25.1
30.7
32.8
34.9
37.0
11
30.4
37.2
39.7
42.2
44.8
12
36.1
44.2
47.3
50.3
53.3
12.5
39.2
48.0
51.3
54.5
57.8
13
42.4
51.9
55.5
59.0
62.5
14
49.2
60.2
64.3
68.4
72.5
15.5
60.3
73.8
78.8
83.9
88.9
16
64.3
78.7
84.0
89.4
94.7
17
72.5
88.8
94.8
101
107
18
81.3
99.5
106
113
120
18.5
85.9
105
112
119
127
20
100
123
131
140
148
21.5
116
142
152
161
171
22
121
149
159
169
179
24
145
177
189
201
213
24.5
151
184
197
210
222
26
170
208
222
236
250
28
197
241
257
274
290
Product Structure
6×24-7FC
Specifications
Nominal Diam (mm)
Approximate Weight (kg/100m)
Nominal Tensile Strength (Mpa)
1470
1570
1670
1770
Min.Breaking Load(KN)
8
20.4
26.3
28.1
29.9
31.7
9
25.8
33.3
35.6
37.9
40.1
10
31.8
41.2
44.0
46.8
49.6
11
45.8
37.2
53.2
56.6
60.0
12
53.7
44.2
63.3
67.3
71.4
13
62.3
51.9
74.3
79.0
83.8
14
81.4
60.2
86.2
91.6
97.1
16
103
78.7
113
120
127
18
127
99.5
142
152
120
20
154
123
176
187
148
22
183
149
213
226
179
24
215
177
253
269
213
26
249
208
297
316
250
28
197
241
345
367
290
30
286
370
396
421
446
32
326
421
450
479
507
34
368
476
508
541
573
36
412
533
570
606
642
38
459
594
635
675
716
40
509
659
703
748
793