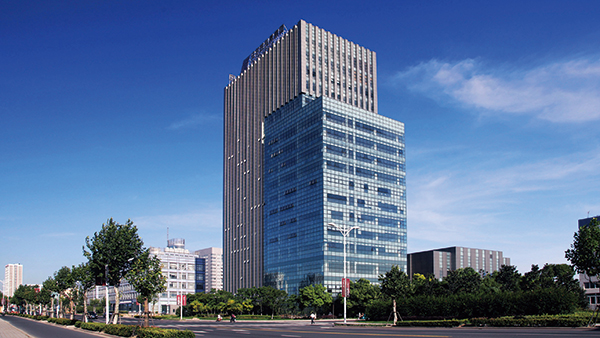 Our story
The story of Fasten Group starts in 1964 as we were a small company that specialized in the production of hemp ropes used for boats and ships. For six years we continued to grow steadily until we expanded our production capabilities in the 1970's to include the manufacturing of steel wire and other wire rope products. Today, we have a diverse catalog of products that include all kinds of steel wires, wire ropes, optical communication products, mechanical equipment, and artificial marble.
We produce 850,000 tons of wire and rope products every year and we do business in countries all over the world.
The Strengths of Fasten
1. Our state-level enterprise technology center and metal testing center allow Fasten to be at the forefront of many national key science and technology support programs. We also undertake the secretariats of Steel Wire Ropes subcommittee of Steel Technology Committee in SAC(SAC/TC 183/SC 12) as well as Steel Wire Ropes Technology Committee in International Organization for Standardization(ISO/TC 105). We also operate the only National Metal Wire Product Engineering Technology Research Center in China.
2. Fasten's current production bases cover manufacturing for conveyor belt steel cord, bridge cable, PC strand, stainless steel products, fine cable, tire cord (joint venture), and fiber optics among others.
3. In 2013, Fasten's conveyor belt steel cord was awarded a certificate of exemption from the customs examination by the General Administration of Quality Supervision, Inspection and Quarantine of the People's Republic of China. This expedites our production and shipping policies.
4. In 2016, we became one of China's national model enterprises as a wire and cable manufacturer. We were also the recipient of the award at the fourth China Grand Awards for Industry.
Conveyor Belt Steel Cord Base
Our conveyor belt steel cord base is a highly advanced facility that covers more than 100,000 square meters. The products manufactured in this base are divided across 10 series with more than 400 specifications. The products manufactured at this site include special steel cord for conveyor belt, gondola ropes used for high-rise building access platforms, galvanized aircraft cable and others . We also produce other special steel wire ropes with diameters smaller than 16mm. Through advanced production equipment, technical research capabilities, and a highly dedicated workforce, we are able to produce high quality products with incredible consistency. We implement SAP to integrate our management of business and production data. We organize our production operation in strict accordance with ISO9001 quality management system and ISO14001 environmental management requirements. In addition to the standard inspection operations for the mechanical and chemical properties of our products, we can perform vulcanization, aging, penetration, and a wide range of other tests.
Bridge Cable Base
The main products include:
High-strength hot-dip galvanized steel wire and zinc-aluminum alloy coated wire for bridge engineering. Annual output: 36,000 tons.
Hot extruded polyethylene covered cables for bridges and structures. Annual output: 30,000 tons.
Precast parallel steel wire cable for suspension bridges. Annual output: 120,000 tons.
Epoxy coated and filled pc strand. Annual output: 10,000 tons.
These products have been used in more than 800 bridges and structures. Our example projects include Izmit Bridge in Turkey, Hong Kong-Zhuhai-Macao Bridge in China, Inchenon Bridge in South Korea and Hangzhou Gulf Bridge in China.
PC Strand Base
This is our prestressed steel strand production facility. All of the production equipment is specially imported from Italy. The production base boasts an annual output of more than 200,000 tons of strand. Our leading products are steel strands for prestressed concrete structures. These are popular for use in the construction of roads, bridges, high rise buildings, and even water conservancy projects.
Stainless Steel Product Base
The stainless steel product factory produces 28,000 tons of stainless steel wire, 2000 tons of stainless steel cable, and 2000 tons of stainless steel bar each year. These stainless steel products are applied in a variety of applications including aviation, chemical processing, electronics production, automotive and many other industrial applications.
Fine Steel Cord Base
The Fasten fine steel cord production base features a total manufacturing capacity of 1,500 tons per year. The factory produces steel cord for PU timing belt with their ultra-fine diameter, low stress, and low elongation rate. Our Steel Cord greatly increase the useful life of timing belt. All of the production operations that occur in this factory are done in accordance with ISO9001, IATF16949 standards.
General Purpose and Specialty Wire Rope Base
The GP and specialty wire rope facility is where we manufacture wire rope for high-speed railway networks, elevator rope, wire rope for harbor machinery, etc. The factory holds certificates such as ISO9001, API SEPCQ1 and JIS Q1001. We have created an maintained strategic partnerships with Shanghai Mitsubishi Elevator, the Port of Shanghai, Xugong Group, Sany Heavy Industry and many others in order to work together to create better products for everyone.
Tire Cord and Sawing Wire Base
The Fasten tire cord and sawing wire base was established as a joint venture between Fasten Group and Bekaert Group which is headquartered in Belgium. This facility is used to produce tire cord, bead wire, sawing wire, spring wire and hose wire.
Commercial Wire Base
Our commercial wire production base is engaged in the manufacturing of high grade steel wire products. The size range of these wires cover 0.5-12mm and our annual output has surpassed 200,000 tons. The products come in eight series including spring wire, music wire, baling wire, cable wire and more.
Fiber Optics Base
After establishing a partnership agreement with Potevio, the two enterprises decided to establish 4 fiber optic bases in Jiangsu, Shanxi, Sichuan, and Shanxi. These bases are the home to our outstanding optical fiber research and development centers as well as the production facilities. These fiber products are used in communications networks all over the world.